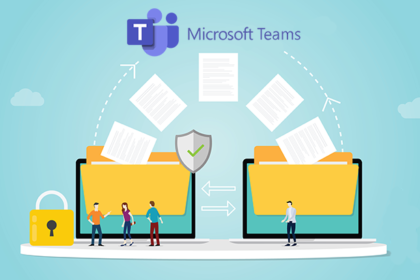 Teams grew exponentially in 2020
For Microsoft 365 users, Microsoft Teams is a central hub for collaboration that's been growing in leaps and bounds over the past year. According to reporting in VentureBeat, the number of organisations using Teams increased from 50,000 in 2017 to 500,000 in 2020.
By using Teams, organisations are collaborating more efficiently, no matter where their employees and customers are. Here's the wrinkle: Companies are on the hook to keep this service and Teams' data secure. Not Microsoft. Yes, Microsoft has some shared responsibility to maintain backups at various geolocations to ensure global availability of the application and protect against natural disasters. But cloud providers don't have a backup capability that recovers your data when the unthinkable happens via a cybercriminal or an employee.
Why Microsoft Teams (and other apps) need cloud backup
Without secure cloud backup, external and internal threats put your data at risk. Whether it's malware or an employee maliciously or inadvertently deleting data, the loss from a single security incident is costly and can even be crippling. Data in cloud-based applications is also vulnerable to other scenarios such as cancelled user licenses, rogue applications, ransomware, and accidental data overwrites that can all cause severe damage.
A strategic cloud backup solution for the things Microsoft doesn't cover – human error, hackers, and other risks – is the best way to gain peace of mind and an extra layer of security to keep data safe.
Blog Source: Click here
To keep your data safe and backed up, get in touch with Connexus on 01453 827700