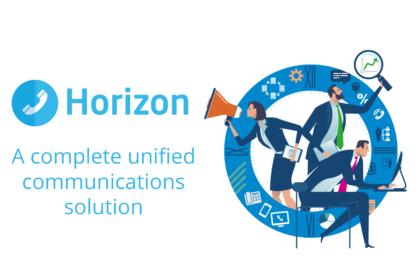 Horizon Collaborate offers services such as instant messaging, presence, voice, video, desktop / application sharing and document sharing. Driven through a set of end user applications for Windows, MAC, Android and iOS, it enables users to access business communications and collaboration services from their favourite devices – wherever they are.
What are the advantages of Horizon Collaborate?
Horizon Collaborate provides a complete UCaaS solution that works across fixed and mobile and provides a common UC experience across all devices. Additionally, users can move seamlessly from one device to another in real time: for example, when leaving the office or home desktop and transferring to a mobile device. Horizon Collaborate is built on a proven platform and is supported by a UK network operator, so customers are supported during migration and use. Employees benefit from using the most integrated UC tools, and organisations also benefit from dealing with one supplier and receiving one bill.
Horizon Collaborate service
Horizon Collaborate is a cloud-based implementation of Unified Communications, delivered as a service (UCaaS) built on Horizon cloud-based telephony. Existing Horizon subscription customers simply upgrade to UC by adding Collaborate. New customers subscribe to the complete Horizon telephony & Collaborate UC service. The UC functionality is provided from a platform that offers:
• Instant messaging: Online chat is quicker & prompts a more immediate response
• Presence: Visibility of co-workers' availability (e.g. for helping resolve issues)
• Video calling: Providing a stronger collaborative experience, especially for remote employees
• Ad hoc and planned voice and video conferencing: multi-party collaboration using the My Room personal conferencing space, supporting desktop and file sharing
• Voice: the complete Horizon cloud-based telephony feature set and service
Horizon Collaborate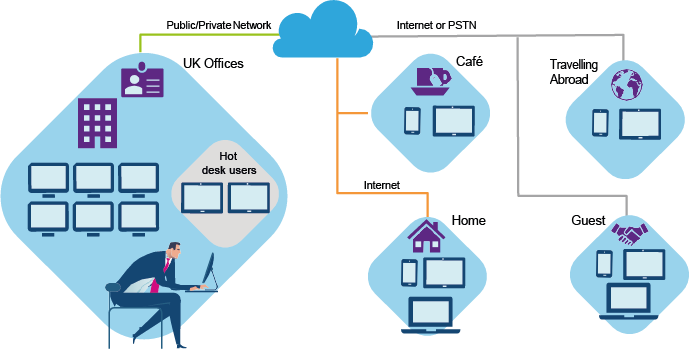 From every location, using any device
Within the UK, users can access the Collaborate service from wherever they are located – whether in the office, on the move, or at home – using desktops, tablets or smartphones. The service runs on Windows and Mac desktops, and iOS and Android mobiles. The user interface is intuitive and similar on all devices, and users experience seamless continuity when switching between types of device (e.g. leaving home or the office and transferring to a tablet or smartphone in real time).
The guest facility of My Room enables non-employees, such as partners and customers, to be invited into an online meeting. If they have internet access, they can call directly as an IP call, or use call back. If they don't have internet access, they can dial in using a pin.
Get in touch with Connexus to request a free demo on Horizon Collaborate.