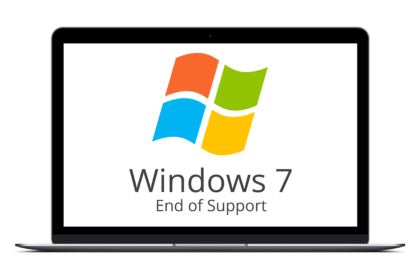 Microsoft has officially announced the "End of Life" date for Windows 7 support by the  14th January 2020. This could even be sooner for those who don't download a recent security update! This means Microsoft will no longer update or support the system after the date stated above.
What does this support mean for me?
After Tuesday 14th January 2020, if you continue to use Windows 7 after support has ended, your PC will still work, but it may become vulnerable to security risks and viruses. Your PC will continue to start and run, but Microsoft will no longer provide the following support for your business.
What should I do?
As a business running Windows 7 without the security patches and updates is not really an option as it creates liabilities in the event of data theft. Whether you're looking at desktops, laptops or a mix, we can help you source the best, most cost-effective devices for your requirements.
Can I upgrade my existing PC to windows 10?
To take advantage of the latest hardware capabilities, we recommend moving to a new PC with Windows 10.
Download our PDF for more information about Windows 7 End of Support.
Click Here: Windows EOS
Looking for a new PC  with Windows 10? Get in touch with Connexus today for competitive pricing on all the latest laptops and PC's