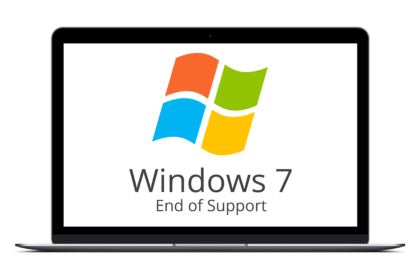 The Windows 7 End of Life date has been announced: January 14th 2020 – even sooner for those who don't download a recent security update! This means Microsoft will no longer update or support the system after the date stated above.
What does this support mean for me?
After January 14, 2020, if your PC is running Windows 7, it will no longer receive security updates. Therefore, it's important that you upgrade to a modern operating system such as Windows 10, which can provide the latest security updates to help keep you and your data safer. In addition, Microsoft customer service will no longer be available to provide Windows 7 technical support.
What should I do?
For most Windows 7 users, moving to a new device with Windows 10 will be the recommended path forward. Today's PCs are faster, lightweight yet powerful, and more secure, with an average price that's considerably less than that of the average PC eight years ago.
Can I upgrade my existing PC to windows 10?
To take advantage of the latest hardware capabilities, we recommend moving to a new PC with Windows 10.
Looking for a new PC  with Windows 10? Get in touch with Connexus today for competitive pricing on all the latest laptops and PC's