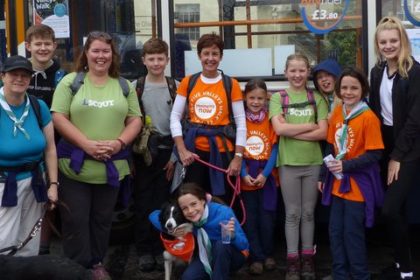 Five Valleys Walk 2017
Annual Walk bigger and better than ever!
Sunday 24th September saw thousands of people taking part in the much-loved Five Valleys Walk through the beautiful Cotswold countryside.
The 21 mile circuit saw walkers rambling through Stroud's five valleys; Painswick, Slad, Toadsmoor, Chalford and Nailsworth. The walk is always a highlight for Stroud based charity and event organiser Meningitis Now, and especially this year, which saw the 30th anniversary of the event.
The walk proved to be more popular than ever with a total number of 2104 people taking part, smashing last year's total by 563!
The day even proved popular with participants of the four legged variety, with 204 dogs joining in too. Although there was a bit of drama when curious pup Barney decided to go ahead and tackle the circuit without his owner.  Thankfully Barney and his owner were later reunited at one of the eight checkpoints.
Kirsty Owen-Hayward, event organiser at Meningitis Now said: "Sunday was a fabulous day with a great atmosphere and lots of smiling people. All money raised from ticket sales and individual fundraising will go towards Meningitis Now's research and awareness work, and supporting people living with the impact of the disease. We would like to thank everyone who took part on the day, and helped to make the 30th anniversary walk extra special."
The new checkpoint venue of Stroud Cricket Club proved very popular, with many walkers who completed the full 21 mile circuit enjoying a free pint provided by Stroud Brewery. Many stayed to enjoy the buzzing atmosphere and indulge in the hog roast, which raised a fantastic £1293 for Meningitis Now.
Colin Folwell, a regular participant of the walk said: "It was a great day – the icing on the cake was the show put on by Stroud Cricket Club. I have done quite a few walks now, travelling down from Rugby, but this year was something special. Finishing at the Cricket Club with all the walkers relaxing after their efforts and enjoying the hospitality provided by the club, together with Meningitis Now's great team of helpers, was brilliant. A sincere thank you to both organisations, from a very tired, but happy walker."
Other highlights of the day include one speedy participant, Nick, who decided to run the whole circuit, in an impressive time of 3 hours and 24 minutes, well done Nick, you are an inspiration.
Meningitis Now would like to thank Stagecoach (we really couldn't put on this walk without your dedicated support). All of our wonderful volunteers that helped out on the day. Barry, Jean and everyone at The Stroud Cricket Club. Connexus, Renishaw, Stroud Brewery, Water Logic, The National Trust, WSP Solicitors. Thank you also to Attwolls, Adams' Gelato Ice Cream, Ben Creese Country Butchers, Bristol Balloons, Chamberlain E A Holdings Ltd, Coffee Man Chris, D & L Beverages, Ermin Plant, Lovington's Ice Cream, Morrison's Nailsworth, STB Engineering Ltd, St John's Ambulance, Stroud District Council, Tesco, The Canteen, Mr & Mrs Little (Pitchcombe) Mr & Mrs Cullimore (Lypiatt) Mr T George (Slad) and finally Lukas at Milk Hut Productions.