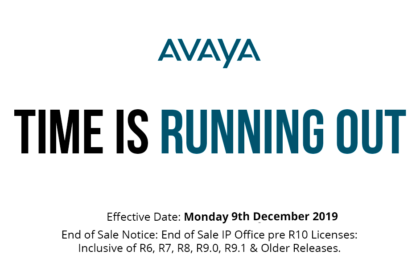 Effective Date: Monday 9th December 2019
Subject:  End of Sale IP Office pre R10 Licenses: Inclusive of R6, R7, R8, R9.0, R9.1 & Older Releases.
Summary: Effective 9th December, 2019 Avaya will End the Sale of IP Office pre-Release 10 software licenses.  Last orders for pre-R10 codes must be in order status by 9th December, 2019.  These releases are no longer supported through Avaya. Customers may upgrade to supported releases R10.1 and R11.x
It is recommended that customers upgrade to the latest release R11.x or Avaya Powered By IP Office for the added value provided with these solutions.  A promotional offer will be available to assist customers with making this transition to update their systems or move to the Avaya Powered By IP Office solution.
Latest Release and Upgrades: Are you looking to be on the latest release? Please get in touch with Connexus so we can advice you with the best solution for your business requirements. We are more than happy to give you advice on explaining where or how to get the information you need to find out what release you are on. Give us a call on 01453 827700 or email us at: sales@connexusuk.com.
If you have any questions regarding your Avaya phone system please get in touch today!