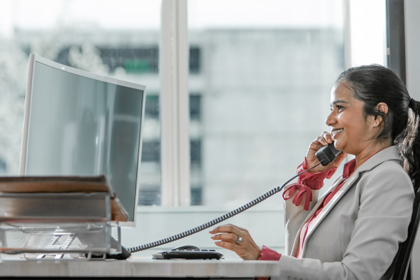 Are organisations attempting to use artificial intelligence (AI) in the contact center? Yes, without a doubt. New research from Vanson Bourne shows that almost all (94%) of organisations recognise the ability of AI to improve contact center performance, with 87% reporting that "adopting or improving AI in the contact center" continues to be a top priority for 2019.
What exactly does this mean? Here are eight distinct ways that companies are using AI to optimise consumer-experience, agent-experience, and contact center productivity:
Chatbots: Considered one of the most basic forms of AI, over one-third (37%) of companies are leveraging AI-powered chatbots to interact with customers. In fact, the majority (58%) of executives believe that chatbots are the only form of AI that their organisation is currently using effectively. Our recommendation: extend use of AI beyond selection of content in the directed dialog, to improve the overall quality of conversation. Chris McGugan, Avaya SVP of Solutions & Technology, discusses here how to enhance automated interactions based on personality, emotion and sentiment.
Voice Self-service: Nearly half of organisations are using AI in the contact center to improve customer self-service. Specifically, using powerful automation capabilities that provide simple, easy-to-navigate conversational interfaces (Gartner predicts that by 2023, customers will prefer to use speech interfaces to initiate 70% of self-service interactions compared to 40% in 2019). Essentially, AI will be used in this manner to strike the perfect balance between Conversational IVR and escalation to an agent if needed.
Predictive service: About 40% of organisations say they are or plan to use AI in the contact center to better predict customer behaviors and/or needs. By using AI to consistently analyze customer conversations (more on this below), you can start to intelligently predict behaviors, needs, expectations and even emotions to deliver experiences that matter. For example, an auto manufacturer could begin to accurately predict the breakdown rates of certain parts so that agents can proactively recommend service or maintenance plans before an issue occurs.
Smart routing: AI-powered learning algorithms can enable predictive routing that gets customers to the right contact the first time, every time. For example, a customer could be automatically routed to a certain specialist after their bill has consistently been over by a certain amount of dollars each month. These algorithms can be set to intelligently pair customers with agents based on key business insights and even characteristics like sentiment, relatability and emotion to drive more meaningful human connection —while lowering labor costs. About one-third of organisations report this as a top priority for using AI in the contact center, according to Vanson Bourne.
Agent augmentation: About one-third of organisations say "employee retention" is a key goal of using AI in the contact center. To alleviate stress, AI can be used to seamlessly gather pertinent knowledge articles, and then coach the agent on how to handle a situation.  AI also can be used to automate various processes, to help relieve the agent of manual, repetitive tasks. Finally, AI helps to empower agents to deliver EXCELLENT service and to obtain RESULTS.  All of which has the potential to make the job more meaningful and rewarding.
CRM integration: Nearly half of organisations are already investing in this application of AI, according to Vanson Bourne. Beyond transcription, AI can be used to summarise customer conversations in meaningful way. After autoloading into CRM, the structured information that is gleaned can be used to automatically initiate targeted, after-call work processes.
Conversational intelligence: Using powerful Natural Language Processing in the background, voice calls to a live-agent can be processed in real time, to discern various entities and intents. Ultimately that can be leveraged to assist the agent to better handle the call, to notify a supervisor of an impending escalation, or to spawn a downstream fulfillment process.
Topic modeling: Machine learning algorithms can detect shifts from one topic to another, as well as the recurrence of themes. This can be used in both voice- and digital interactions, and for automation- and live-agent interactions.  The goal of course is to make interactions more intuitive and seamless for the consumer.  At the same time, the contact center is equipped to exercise business processes expeditiously, in order to increase overall productivity.
Over 80% of executives believe that failing to get on board with AI now will cost their organisation for the next decade. Learn more about the state of AI in the contact center, including the "how" behind effective implementation, with Vanson Bourne's new research report, "AI: The De Facto for Contact Center Experience," commissioned by Avaya.
Blog Post "8 Ways to Use AI in the Contact Center" was published by Avaya: Click Here