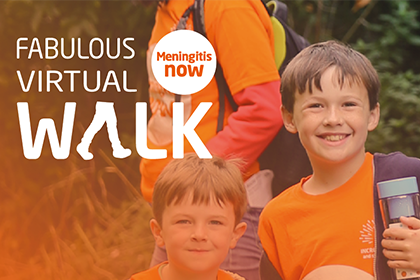 With Meningitis Now being a local charity we have enjoyed working with them for over 10+ years now.
We actively encourage our team to get involved, especially for the annual Five Valleys Walk which we are proud to sponsor each year but this year due to COVID-19, Meningitis Now is launching the Fabulous Virtual Walk to continue raise money during these hard times.
Connexus usually helps by donating fresh fruit for the checkpoints but due to Covid-19, unfortunately we are not able to do this, so this year we have donated £450 straight to Meningitis Now to help them continue to fight against Meningitis.
For more information on Meningitis Now Fabulous Virtual Walk click here: Fabulous Virtual Walk
Event information
Date: From Sunday 27 September
Location: Anywhere – the route is up to you!
Starting on Sunday 27 September 2020 (the date that the Five Valleys Walk should have been), the idea is simple; walk 21 miles – the length of the Five Valleys route – wherever and whenever you like. Walk it in a day, a week or a month – the choice is yours.
You could win a hot air balloon ride!
Register today for £21 and we'll send you your Fabulous Virtual Walk entry pack, which includes great ideas for routes around the UK, a fun kids' activity sheet and an exclusive Meningitis Now walkers' buff. Ask your friends and family to sponsor your walk and you could win some great prizes in our Top Fundraiser competition, which includes a top prize of a hot air balloon ride courtesy of Bristol & Avon.
£21 can pay 700 signs & symptoms cards to help people recognise the signs of meningitis and potentially save lives
£210 can pay for one week of our Helpline, providing vital information and support for those whose lives have been devastated by the disease
£2,100 can pay for one week of a preventative research project that could one day end the pain of meningitis forever
We estimate that 21 people contract meningitis every single day. But by walking 21 miles we can continue to save lives and rebuild futures.
We've walked together for the past 33 years. Let's not stop now!
If you would like to donate to Meningitis Now click here: Donate
Your donation will help Meningitis Now:
Save lives through research into lifesaving vaccines and spreading awareness
Change lives after meningitis, helping people to rebuild their futures with our specialist support
Thank You!