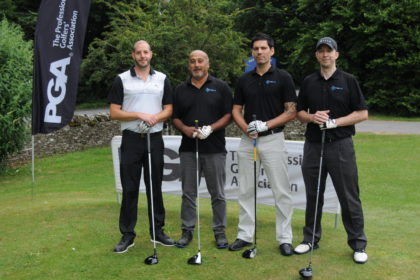 Connexus took part in the Cotswold Edge Golf – Pro Am 2019 event, which helped raise money and awareness for the charity 'Goals Beyond Grass'.
Goals Beyond Grass – Their Mission
They are a charity dedicated to helping children, families, and communities across the country reach their full potential by engaging in physical and social activity. Engaging the whole community through the vehicle of Power-chair Football.
The Day
Goals Beyond Grass have been selected as the captains charity for the year this means we are the sole beneficiary of the money raised at this years Pro-Am. This is going to be a great days golf with teams of 3 setting off with a Pro!
The day will be concluded with a meal all inclusive of the price of £275 for a team of 3. Teams will also have the opportunity to win lots of great prizes throughout the day. Every team that enters will also have a free  Four ball voucher to use at Cotswold Edge Golf Club.
What is it?
The Pro Am is open to all golfers with a handicap (limit 24 for men and 30 for ladies with 90% stroke allowance) and offers them the opportunity to play alongside a PGA Professional from the West Country.
Teams of three amateurs plus their Professional compete in a medal competition with 2 scores counting on each hole. The Professional also competes for a separate prize.
If you are interested in part next years event please feel free to contact Cotswold Edge Golf Club Office Tel: 01453 844167