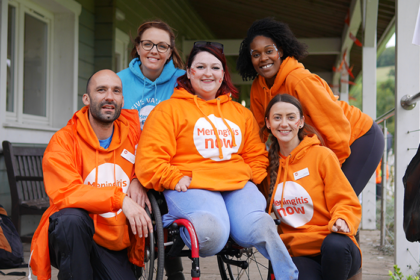 Thank you for supporting our Five Valleys Walk
Despite the weather thousands of charity supporters braved the elements on Sunday and turned out for Meningitis Now's annual Five Valleys Walk – the 32nd time the event has been held.
Walkers put a brave face on the wet and blustery conditions and stayed in high spirits as they took on the 21-mile route. However, the weather clearly put a number off and with numbers lower than usual, Meningitis Now is also expecting income to be down on previous years.
To those who did take part Meningitis Now is really grateful. Donations will help provide practical and emotional support to families and individuals, whose lives have been affected by meningitis, right across the UK.
Anybody who had planned on coming along but was put off by the weather can still donate to our lifesaving and life-changing research, awareness and support work on our website:  Donate
If you would like to take part in next years event please click here more information: Five Valleys Walk
Your donation will help Meningitis Now:
Save lives through research into lifesaving vaccines and spreading awareness
Change lives after meningitis, helping people to rebuild their futures with our specialist support
Leah Wynn, Meningitis Now's Community Fundraising manager, who organised the day, said: "I'd like to say a huge thank you to everyone who turned out yesterday to help us raise awareness of meningitis and funds to combat it – it's events like this that enable us to make such a difference to those who need us.
"I'd also like to thank the many volunteers who helped us again this year, providing First Aid support, running the checkpoints and generally ensuring everything ran smoothly – we couldn't put on the event without you.
"And, last but not least, all the local sponsors who get behind the event – The Co-op, Attwoolls, Connexus, Renishaw, Stagecoach, Water logic, Wheatley Printers Ltd, Altripan UK Ltd – and contribute so much to its success."
Sponsorship money still has to be collected and counted but it is hoped the walk will raise £40,000 to help Meningitis Now continue its fight.
Thank You